Every 24 hours you can breed a male and female together. If successful you'll get a basket. Below is an example of what the current baby baskets look like.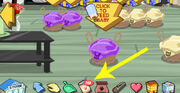 In order for the baby inside to come out of the basket, you need to feed the baby. To feed the baby you simply click on the food icon as you would to feed the pets. Above the baskets you'll see "Click to feed baby", your cursor will change to a bottle of milk and then all you have to do is click. Babies need to be fed every 4 hours to continue growth.
The Kitten Baskets Are Growth In 3 Days.They Can,Glow,Be Mini,Be Big,etc.
Ad blocker interference detected!
Wikia is a free-to-use site that makes money from advertising. We have a modified experience for viewers using ad blockers

Wikia is not accessible if you've made further modifications. Remove the custom ad blocker rule(s) and the page will load as expected.