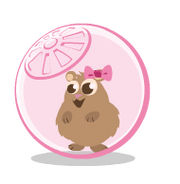 Girl Hamster is one of the Hamsters available for purchase from the Store and is the female version of the Hamster in Happy Pets
The Girl Hamster is located in the "Other" Store. Unlike all the Bought Store hamsters, She has a pink hamster ball.
She only costs 50 Facebook Credits.She has a little pink bow on her head as do all female hamsters.
Statistics
Edit
Cost - 50 Facebook Credits
Adult sells for - 1500 Coins
Adult in - 4 hours
Feed every - 4 hours
Girl Hamster is the very first female Hamster in Store
Ad blocker interference detected!
Wikia is a free-to-use site that makes money from advertising. We have a modified experience for viewers using ad blockers

Wikia is not accessible if you've made further modifications. Remove the custom ad blocker rule(s) and the page will load as expected.