Welcome to the Happy Pets Wiki!
The wiki about the Facebook game Happy Pets by CrowdStar. Please feel free to help the community build this wiki!


Happy Pets is a game where you own, breed, and care for pets. You can buy exotic pets like dragons, dinosaurs and kangaroos, or you can get more common household pets like dogs, cats and hamsters.

This addictive game is played on Facebook and there are a few cheats for money for you to scan the internet for them as well.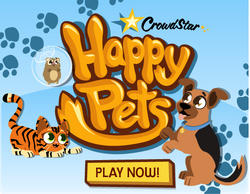 News
Know about the latest news, new pets, features in Happy Pets. :D
Back by Demand - Cowboy Cat and Friends!
Latest activity
Ad blocker interference detected!
Wikia is a free-to-use site that makes money from advertising. We have a modified experience for viewers using ad blockers

Wikia is not accessible if you've made further modifications. Remove the custom ad blocker rule(s) and the page will load as expected.